FACTIVATE CHANGES THE DATA ANALYTICS GAME
Never miss any important data changes!
While you're working, on vacation, or even asleep, the Factivate spreadsheet has your back. Our cell-level alerts make sure your processes are optimized just as you want them. It's the easiest Business Intelligence software in the world! Here are some of our most popular examples:
Spreadsheets Made Reactive
No programming. No Complex Queries Required. Simple Peace of Mind.
Select from an expanding catalog of spreadsheet actions

Add a Spreadsheet Formula to indicate when you want the action to happen
Example formulas can be as simple as =FBAds!C7>2500 if you wish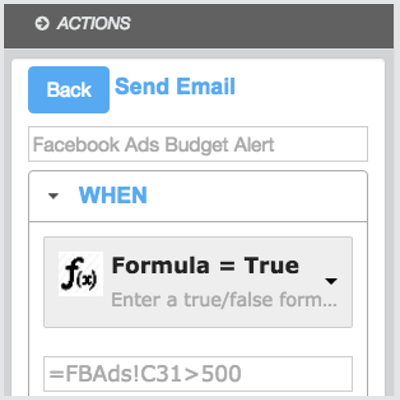 It's this easy to start adding actions into your spreadsheet cells. The more you add, the smarter your spreadsheet can become so get started today.
Sign Up for your Free Account!
Your Real Time Data and Just-in-time spreadsheet actions are just a click away. Register for your account today!