---
Anyone Can Build Actions With A Few Clicks
Our editor was made for automation using nothing but the formulas you already know. Set up actions without developer help.

Select Your Action
Add automated actions to a cell or group of cells with just a few clicks.

Add your Formula
Easily add a formula that will trigger your action (It's as simple as =A1>100).

Watch it work!
Add unlimited reactions to make you never miss anything important!
---
Connect Your Data with Apps You Use Every Day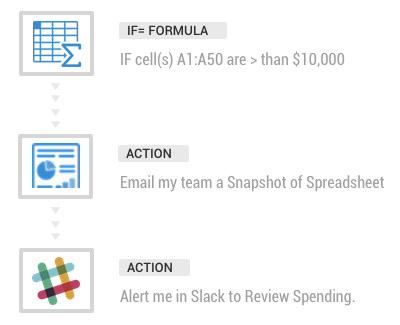 Start workflows from Any Sheet Cell
Write a Formula that Triggers Your Action
Finish Routine Tasks Automatically
Spreadsheets work for you so you can focus on solving harder problems.
Simple. Fill-in-the-Blank Setup
Point, click, automate. Go from frustration to workflow in seconds!
SEE HOW WE MAKE SPREADSHEET ACTIONS EASY
Click on the video below to see how you add an action to your spreadsheet.
Flexible Pricing for Multiple Platforms
Google Sheets Add-on
Build actions into Sheets
Automate basic tasks
Stay on top of all of your data changes
Get help from our top-notch team
GSheets Signup
Factivate Add-on
$0.00
*included with subscription
Free 7-day trial
Build workflows from automated data pulls
Automate reactions from your KPIs
Get priority support
Upgrade or downgrade at any time
Factivate Signup
Wave Goodbye to Missed Opportunities
Don't waste another minute. Create an account and make sure you stay on top of your data.